ONIMESI EXTERNAL ENGAGEMENT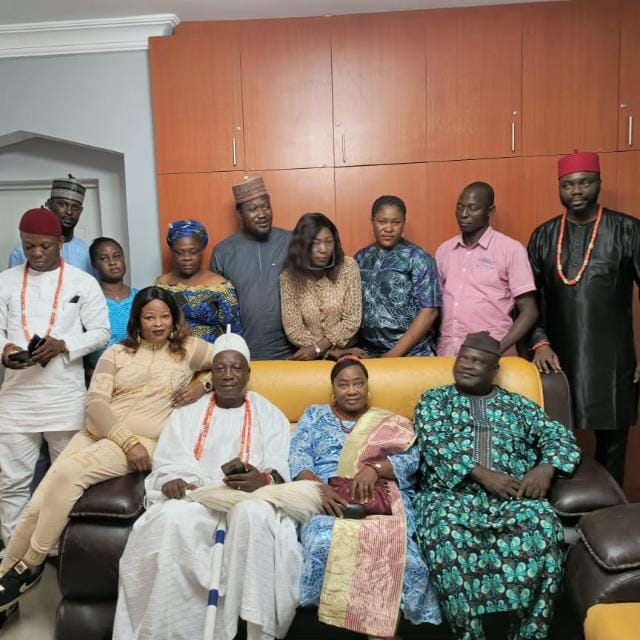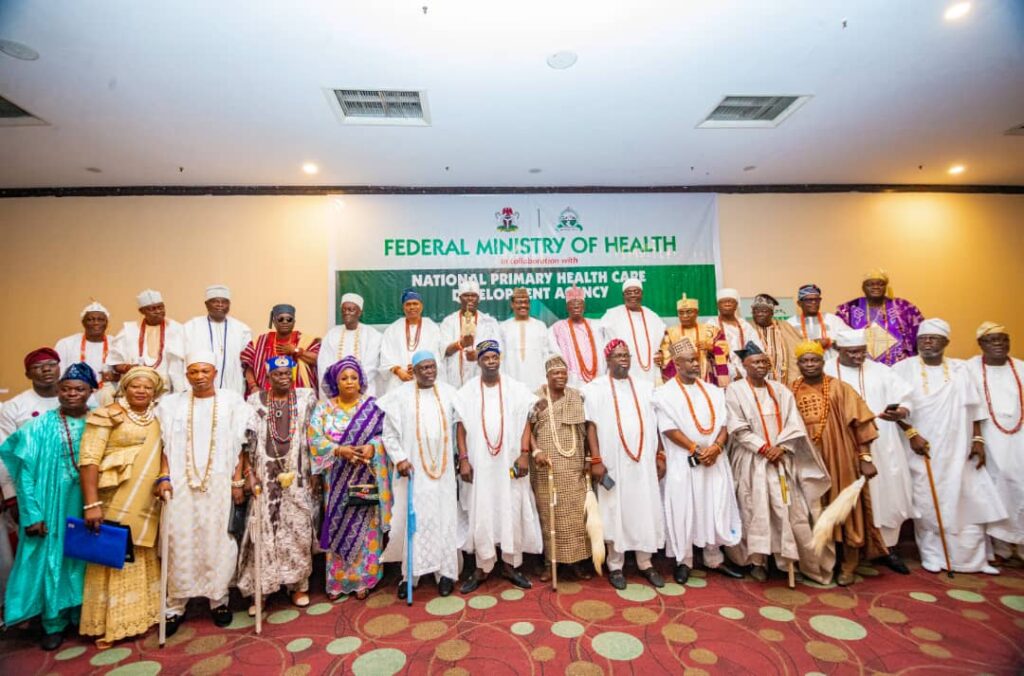 NATIONAL HEALTH CARE DEVELOPMENT AGENCY
IN COLLABORATION WITH
SOUTHWEST TRADITIONAL RULERS
22nd - 24th August 2022 Sheraton Hotel Abuja
Onimesi of Imesi-Ekiti, HRM Oba Festus Olatunji Olatunde (Olaibiyeni II) was among Four foremost traditional rulers chosen in Ekiti to represent the State as member of SOUTHWEST TRADITIONAL RULERS on the NATIONAL PRIMARY HEALTH CARE DEVELOPMENT AGENCY conference held in Sheraton and Towers Hotel Abuja, between August 22nd and 24th.
Other Obas from Ekiti are HRM, The Ewi of Ado Ekiti, HRM The Olojudo of Ido Faboro. Other Southwest Obas on the committee are as follows:
SOUTH WEST ZONE  TRADITIONAL LEADERS COMMITTEE ON PRIMARY HEALTH CARE DELIVERY

S/No

State

Invited Traditional Leaders

1

Osun

Oba Adeyeye Enitan Ogunwusi, Ọjájá II,Ooni of Ife

2

Ekiti

His Majesty, Oba (Dr.) Rufus Adeyemo Adejugbe Aladesanmi III (CON, JP).,Ewi Of Ekiti

3

Ekiti

HRM Oba Joseph Adewole,Owa Ajero of Ijero Ekiti

4

Ekiti

Oba Festus Olatunji Olatunde Olaibiyemi II, Onimesi of Imesi Ekiti

5

Ekiti

Oba Ayorinde Ilori-Faboro, Ajiboyede III,The Olojudo of Ido Kingdom.

6

Lagos

His Majesty Oba Rilwan Babatunde Osuolale Aremu Akiolu,Oba of Lagos

7

Lagos

De Aholu Menu-Toyi I, ,Akran Badagry

8

Lagos

HRM Oba Kamorudeen Ishola Animashaun,Oloja of Epe kingdom

9

Lagos

HRM Kabiru Adewale  Sotobi,Ayangbunren of Ikorodu.

10

Lagos

 HRM Oba Olufolarin Ogunsanwo ,Alara of Ilara Kingdom

11

Lagos

HRM Oba Saheed Ademola,Elegushi, Kusenla III Of ikate Elegushi kingdom.

12

Ogun

His Majesty, Oba Alake Adedotun Aremu Gbadebo III CFR, Aafin Ake,Alake of Egba land

13

Ogun

HRM Sikiru Kayode Adetona Ogbagba II, Awujale of Ijebuland

14

Ogun

HRM Babatunde Adewale Ajayi, Akarigbo of Remoland

15

Ogun

HRM Adeyemi Obalanlege,Olota of 0ta

16

Ogun

HRM Kehinde Gbadewole Olugbenle ,Olu of ilaro

17

Ondo

His Majesty, Oba Aladetoyinbo Ogunlade Aladelusi,Deji of Akure

18

Ondo

 His Royal majesty Oba Victor kiladejo jilo 111,Osemawe of Ondo

19

Ondo

His Royai Majesty Oba Ajibade Gbadegein Ogunoye,Olowo of Owo

20

Ondo

 HRM, Oba Adefaraknmi Agbede ,Olowa of Igbara Oke

21

Osun

HRM Oba Adedokun Omoniyi ,Abolarin  of Orangun of Oke  Ila

22

Osun

HRM, Oba Michael Odunayo Ajayi, Arowotawaya II, Elerinmo of Erinmo.

23

Osun

HRM Oba Ashiru Olatoye Olaniyan II ,Olobu of Ilobu Land

24

Oyo

His Majesty, Oba Sen. Lekan Balogun,Olubadan of Ibadan

25

Oyo

His Royal Highness, Oba Francis Olushola Alao,Olugbon of Orile Igbon

26

Oyo

His Royal Highness, Oba Moses Oyetola Olawale.,Onigbope of Igbope

27

Oyo

His Royal Highness, Surveyor Oba Khalid Olabisi Oyeniyi,Okere of Saki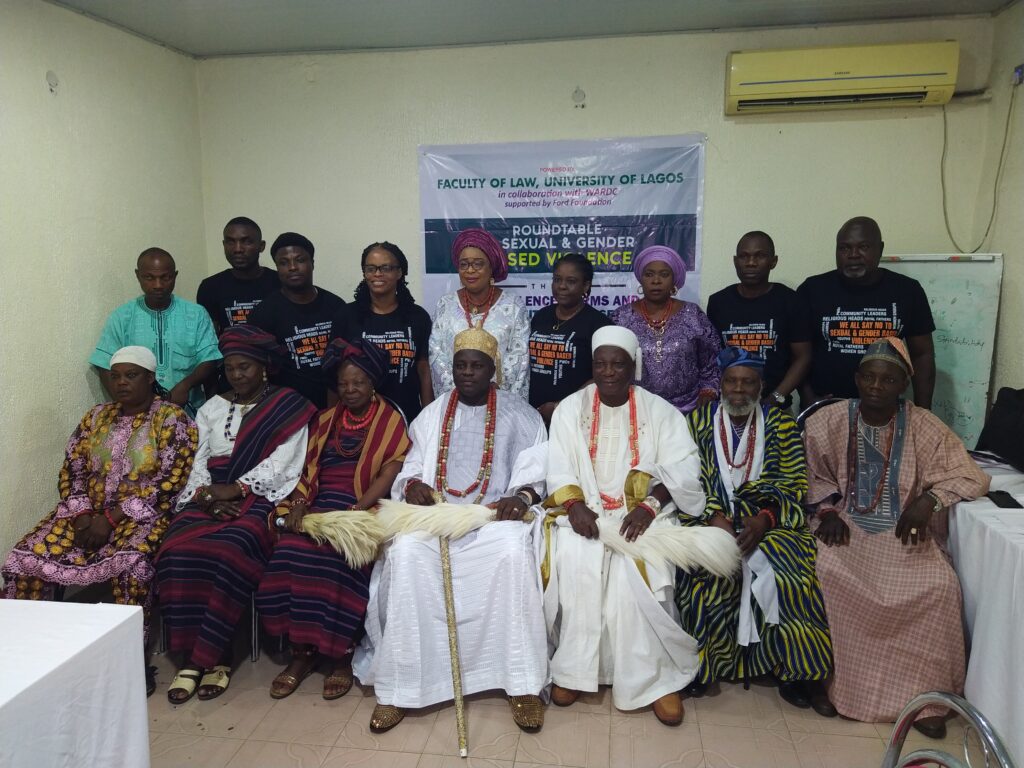 ROUNDTABLE ON SEXUAL & GENDER BASED VIOLENCE
A paper presented by
HRM Onimesi of Imesi-Ekiti
Oba Festus Olatunji Olatunde (Olaibiyeni II)
        Sexual and gender based violence is a major public health and human rights problems involving all ages and sexes. It relates to violence against women, men, girls and boys even though we all think it relates to women and girls alone, men as well are subject to violence too.
       The United Nations defines it as "any act of violence that result in physical, sexual or psychological harm or suffering in women, including threats of such acts; coercion or arbitrary deprivation of liberty whether occurring in public or private life and includes acts that allows one gender to control another such as; punching, hitting, choking, hitting, throwing of objects at a person, kicking and use of a weapon including gun, knife, machete.
STAKEHOLDERS SUMMIT ON2023 CENSUS 3/10/2022